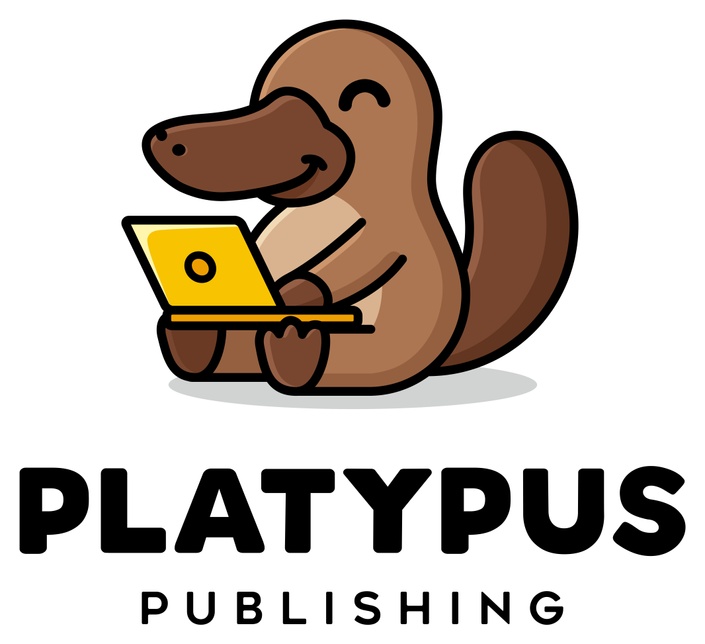 Permission Publishing
How to Write a Book That Explodes Your Business, Career or Life (Without Scammy Marketing)
98% of Self-Published Books Suck
But mine grew my business so fast I turned down Simon & Schuster.
Wanna join the 2%?
---
You're a smart entrepreneur or writer, or soon to be one. You've probably thought about writing a book, and you don't need me to tell you that a book can explode your business, career and life by:
Getting your message out there to the right people, and making a difference
Giving you instant credibility for media and speaking opportunities
Finally giving you, your writing or your business the recognition it deserves
A good book sells you and your services on autopilot, and it only gets stronger over time. If done properly, you'll never have to cold call, email or advertise ever again, because your book will find readers and customers for you.
No more selling yourself. No more hustle, grind.
So why haven't you done it yet?
First, it's really hard.
But more importantly: You're not a sociopath.
(No, that wasn't a typo.)
---
Did you know that it takes $3 and five minutes to become a "bestselling author?"
That explains why every "entrepreneur" on LinkedIn won't shut up about their "bestselling book" that no one has read. Bestseller lists are easy to manipulate, especially Amazon's.
These "authors" won't tell you how many books they've sold or how much money they've made, and their reviews are written by virtual assistants in the Philippines.
But they're "bestselling authors" … so you should buy their useless, overpriced services!
98% of self-published books are written by people like this. The type of "salesy" people who hire some crappy ghostwriter for $10 an hour and bang out some nonsense that anyone can find on Google. The type of people that feel no remorse posting about their book three times a day, even though nobody cares.
Since anyone can self-publish a book, the worst books are absolutely awful.
If all you care about is bragging about being a "bestseller," leave this page now. Nothing I teach is for you.
If you'd rather change 1,000 lives than be a bestseller, then keep reading.
… and yes, you'll become a "bestseller" anyway, because anyone with a clue can do it easily.
---
Did you know The Martian and Fifty Shades of Grey were initially self-published? Oh, and so was Dickens' A Christmas Carol.
Laugh at Fifty Shades all you'd like, but EL James has sold more books on Amazon than any author, ever.
Actually, they didn't even start as self-published books … they started as a series of blog posts. People loved them, so the authors expanded and self-published books. They were such hits that traditional publishers bought the rights, and then so did movie studios.
Again: The worst self-published books are awful. But the best can be just as good as any traditionally published book, if not better.
If you know what you're doing.
---
The truth is, you're probably not writing the next Fifty Shades of Grey. You probably don't want to. You probably want to grow your business, or build an online platform to share your ideas, writing, and services. You might want to start a side hustle.
So is it still worth writing a book?
Well, you've almost certainly never heard of my book (only a few thousand people have read Smart Sports Betting), and it hasn't made tons of money ($13,315.30 in 4.5 years) … but it changed my life and directly led to launching my six-figure business.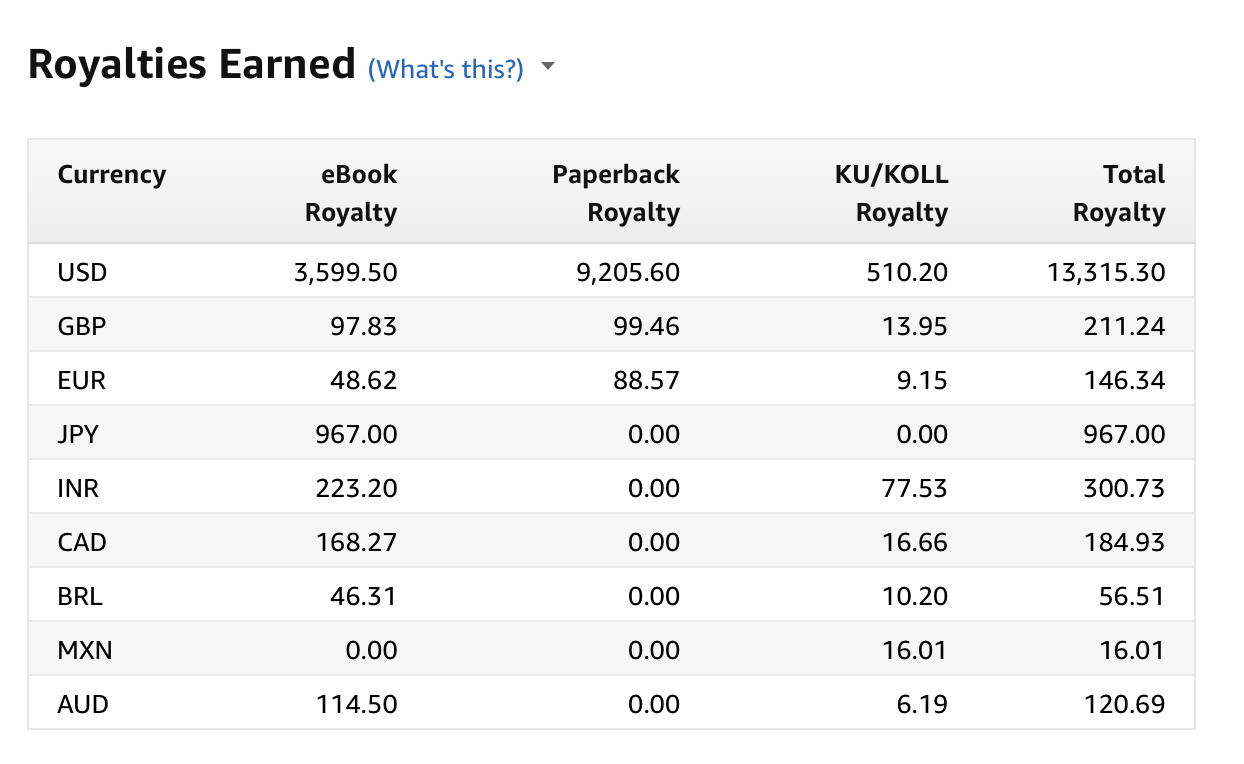 And it got me an offer from Simon & Schuster, which I quickly turned down (because traditional publishers don't offer much beyond an ego boost, as I'll explain later).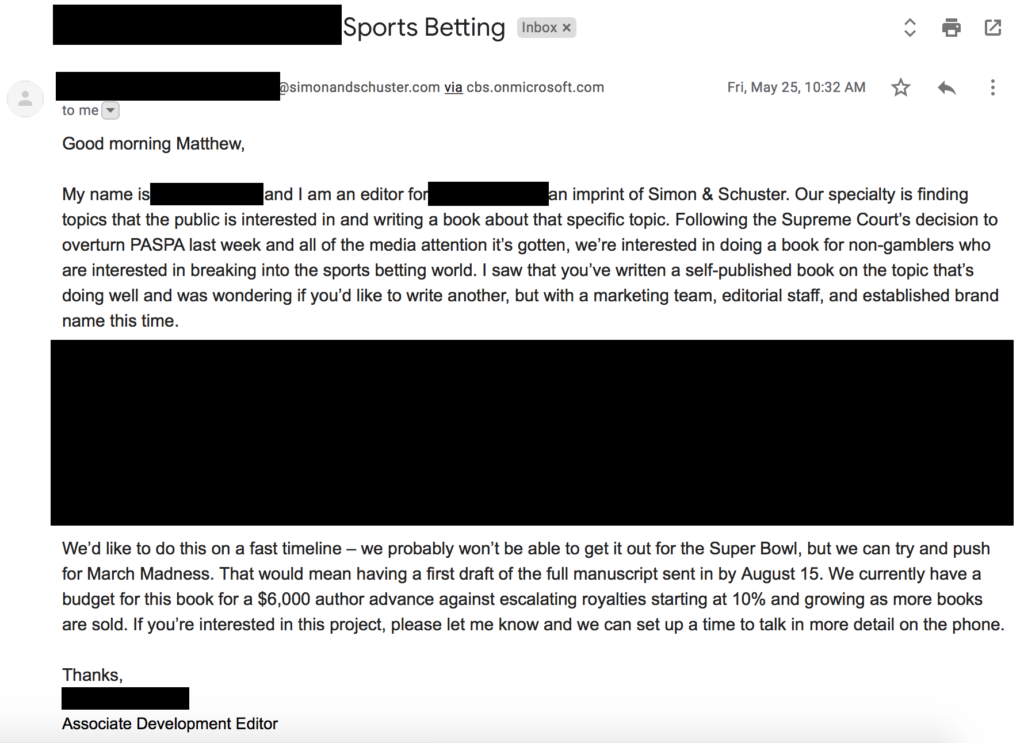 As long as you do things differently than the 98%, writing a book can change your life, too.
Remember what I said before? If you write a book to change 1,000 lives, you not only will feel fulfilled, but you can make a ton of money. Ethically.
---
Honestly, I was shocked my book did so well. I wrote it for fun, as an unemployed 22-year-old. But I was so thrilled I had to learn everything about self-publishing, and what separates the 98% from the 2%.
Ever since, I've:
Written a second book that sold almost no copies … but led to $20,000+ ghostwriting contracts
Helped multiple CEOs, consultants and online business gurus write and launch their books at Scribe Media (formerly Book in a Box)
Started a publishing company (Platypus), whose books have been covered by places like ESPN and The Daily Beast
Helped dozens of authors sell thousands of books and explode their businesses
You can look up Book in a Box (now called Scribe Media), you can look up Ticketless, Smart Sports Betting … and while I can't tell you the books I've ghostwritten, you can check out testimonials on my website.
But I'm done bragging. I'm not any smarter than you, I've just been fortunate enough to be thrown into the world of publishing at a young age and commit the last five years to figuring this all out.
This has been my full-time job and business for five years. I've read every book on publishing, every blog, I've covered every angle.
I've created a system that can work for anyone, as long as you're not a sociopath. It's called: Permission Publishing.
---
Now, this isn't your ordinary "self-publishing" class. As most of you know, most self-published books are fluffy nonsense that no one wants to read. Scammy "e-books," not real books that help people.
I don't believe in that bullshit, and I will teach you a completely different philosophy. You'll still techincally be "self-publishing," but you'll do everything so professionally, with a focus on quality above all … that no one will even know it's self-published.
And that doesn't have to be difficult or expensive -- my first book cost me $5. Literally. I'll explain later.
I call the process "Permission Publishing" … because it involves finding your ideal audience before you write a single word of the book … and actually getting permission from them to write it. Having them tell you they WANT you to write the book, so you have a guaranteed audience before starting.
If you know of Seth Godin, you might notice this is a riff on his "Permission Marketing" -- which basically means "marketing" to people who actually want what you're selling them. No manipulating, just giving and being compensated fairly for it.
---
For the first time ever, the system I've used one-on-one with dozens of writers and entrepreneurs to publish books that explode their businesses and careers is avaliable in an online course.
It will cost you a fraction of what people pay to work with me one-on-one, but you'll get every piece of information and resource they have.
Permission Publishing gives you everything you need to go from no idea (or vague idea) to successful, self-published book (that nobody knows is self-published).
If you follow everything in the course, you can finally write, publish and launch your book this year. (Many people do it within a couple of months, but it depends on your unique situation.)
Permission Publishing is for:
Entrepreneurs who want a book to give them the recognition and customers they deserve
"Wantrepreneurs" who don't know how to get their first customers
Aspiring writers who don't know how to get their first readers
Anyone who cares about QUALITY over VANITY
It is NOT for:
People who only care about bragging ("I'm a bestseller!", without real results)
Short-term thinkers (you won't be profiting immediately, and the process will be hard)
People who would rather write clickbait than a timeless book
The Permission strategy is for people who want their readers' permission before spamming them with some scammy e-book. It's for people who care about quality and results above all.
---
Now, what exactly will you learn?
Here are some of my favorite lessons (there are plenty more).
Why Real Entrepreneurs Self-Publish
Ethical Upsells: How to Make Real Money On Your Book
Why I Wrote the World's Worst Book (How to Reframe All of Your Doubts)
How to Find a Winning Book Idea
Getting Strangers to Ask You to Write a Book
How to Market Without Annoying Self-Promotion
Your Step-By-Step Guide to "Getting Published"
If you're worried that you won't have enough time … aren't enough of an "expert" … won't be able to finish … don't want to risk money on marketing … aren't a "good writer" … or anything else … don't worry.
I address all of your doubts inside of the course, because, trust me: I've had them myself. They're all reasonable … and yet they can be overcome.
(If you have one I haven't seen, I will personally respond and address your understandable fear. There is no shame in doubts. Remember: You're just not a sociopath.)
---
What could a book be worth to your business and career?
A book can cost as little as $5 to publish (seriously, that's what I spent on my first book) … and should never cost more than a few thousand.
If you have an "Ethical Upsell" (and I'll teach you exactly how to create yours) in your book, you can make four figures (or more) with just one reader.
And if you follow everything in the course, you'll have much more than one reader.
My books have led to small business deals, big business deals, an audience for my writing, and invaluable connections.
Before my first book, I was 22 and unemployed. Now, I travel the world as I write, and have visited 51 countries.
I say this not to brag. I say this because Permission Publishing works, whether you have a thriving business that could thrive a bit more … or you're just starting out (like I was).
If you've ever thought about writing a book, Permission Publishing will give you everything you need to make your dream a reality. To hold a real, paperback book in your hands, with your name on it.
And to profit accordingly, while making an impact teaching and sharing your stories and expertise.
---
I charge around $250 an hour for coaching. Editing is around $10,000. Ghostwriting: $30,000 and up.
That's why I created this course. Prices like that are only worth it for a select few people. People who don't have the time or energy to do things on their own, and to follow a step-by-step, guided course.
Now, you can get everything my clients get … for a fraction of the price. (Though of course you'll be putting in more effort than they do.)
And I haven't even mentioned the bonus resources you'll get:
Guaranteed email support from me (I'll answer any questions via email … even though I charge $250/hour for coaching)
Book Outline Templates (for Nonfiction and Fiction)
Email Outreach Templates (separate ones for everything from small blogs and podcasts to mainstream media and television)
My Secret to Getting Amazon Reviews From Strangers
The Ultimate Guides to: Titles, Book Descriptions, Cover Design, Interior Design, Keyword/Category Selection, and more
My Personal Book Vault, including: the best titles, descriptions, cover designs, introductions, first chapters, etc. that I have come across in my years of reading thousands of books (yes, seriously, I am that nerdy)
---
If you've read this far, you're probably thinking about joining, but are understandably skeptical.
So was Trevor Kraus, when I emailed him out of the blue four years ago, explaining how I could help him publish his book. It took me a few hours of convincing … but four years later, we published his book, Ticketless, which has been covered by outlets like ESPN and The Daily Beast.
Trevor is no longer skeptical, and was kind enough to include me as his first acknowledgement in the book.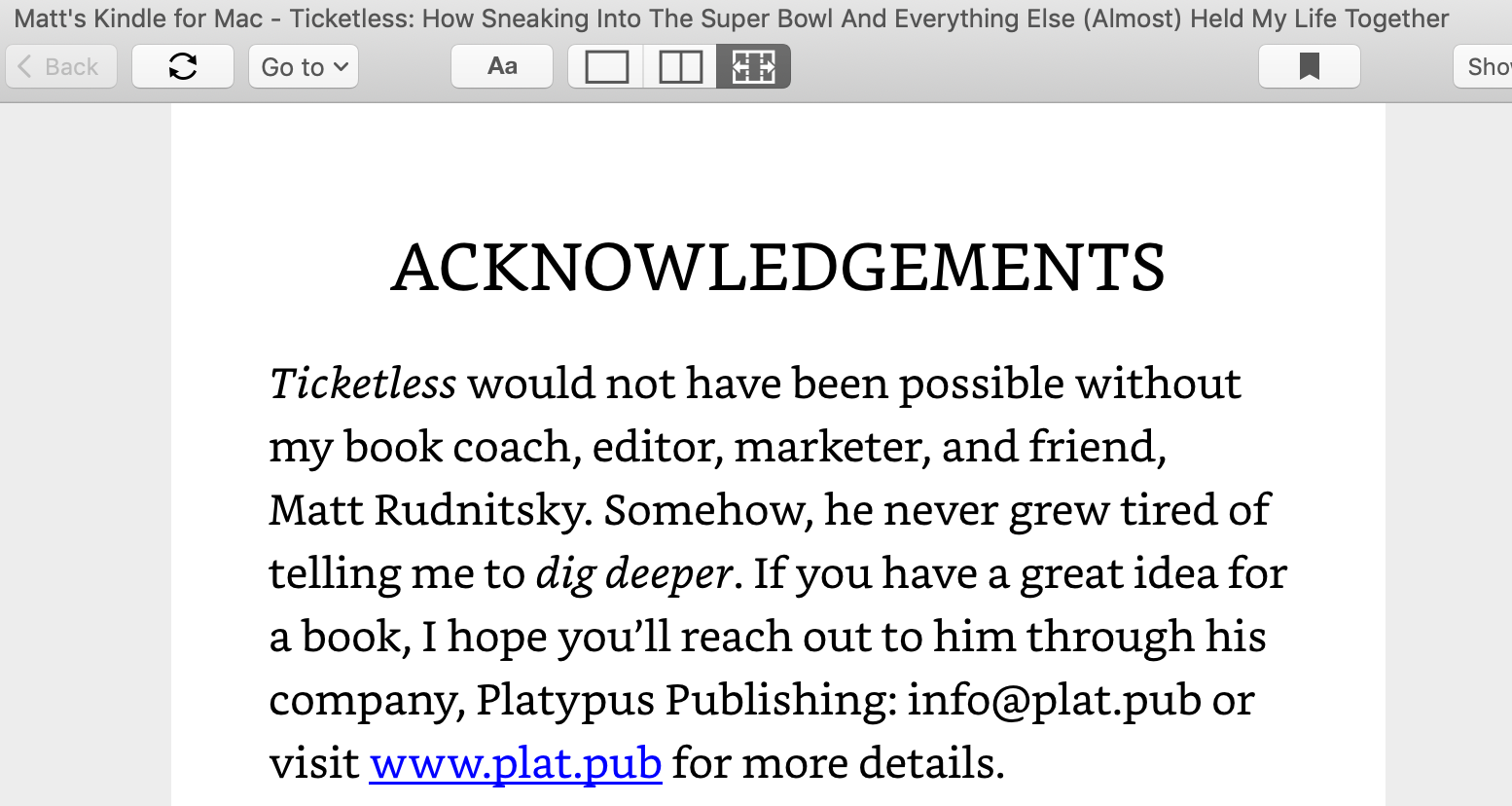 Not to mention, the constant emails I'd get like this:

I really hate bragging. Please check my website for more testimonials. But there's a reason that Permission Publishing has been called a "Writer's Bible" (that one was from Trudy Hylant, a 71-year old stranger who used my process to write her heartbreaking memoir, The Day My Twin and I Died).
My clients have said things like Matt gives you "both the tools and inspiration to become a successful 'authorpreneur.'" … and "I've spent way too much time reading books about writing but none of them actually got me to write. After Matt, I found myself actually sitting down and mapping things out — 2 weeks later, I have an outline that I'm actually excited to start writing."

Permission Publishing isn't about me. It's about you, and your future readers.
That's why my program works so well. It's not about ego; it's about finding your ideal audience, and giving them what they want. It's about getting permission before writing a word. It's about delighting strangers, and selling them things they want.
All I do is give you the tools to share the gifts you already have inside of you.
You know there's a book in there. You know you can help people by doing and teaching what you love. You just need a framework and tools.

Permission Publishing will guide you every step of the way.
---
Most importantly: Permission Publishing includes a 30-day money-back guarantee. If you don't LOVE this course, and if you don't leave with a clear plan to beat all obstacles and write a killer book you'll soon hold in your hands, with thank-you emails and 5-star reviews pouring in ...
You'll get 100% of your money back.
Here's why:
The first modules of the course go very deep into: Should you write a book? How much time and money will it cost (again, it can be as little as $5, but it will take a big time and energy commitment), and is it worth it?
If you're not selling something already, I'll help you identify what to sell and who to sell to. You might not know either of those things yet. You might just be started. And you might not know if a book is right for you.
Once you go through the first few modules, you'll know for sure. And the truth is: While Permission Publishing can work for anyone … it's not worth it for everyone to write a book.
Writing a book is incredibly rewarding, but incredibly difficult.
So if you go through the first few modules and decide your time is better spent elsewhere, I will HAPPILY return your money.
Remember: My philosophy is all about permission and actually helping people.
I PROMISE my course works. But that doesn't mean that you're a guaranteed fit to write a book. So if you find out that is the case, I will give you your money back.
This is my life's work, and I wouldn't have it any other way.
If you don't like the course after 30 days of trying it out, you'll get your money back. There is literally no risk in trying it out. All I will ask is that you demonstrate that you put some effort in to make sure it wasn't a fit. The only reason I make it an Action Guarantee is to ensure that you're not quitting based on fear.
If the course isn't right for you, you'll get your money back. But I'm confident that it can work for any type of writer, entrepreneur, or ordinary person — in any niche.
---
Remember: This is the lowest price I will ever offer for this course, and you will have lifetime access to the material … and anything I add in the future.
As soon as I hit 25 students, I will raise the price immediately. I don't do that to pressure you; I do that because the value of the course will increase once I have feedback. And if you're on the fence about writing a book: I want to make sure you commit as soon as you're ready.
If the course is right for you, there's no need for you to wait. So I want to make it urgent.
I sat on my hands for years, thinking about writing a book. What if I had spent that thinking time actually writing? My business would have grown a lot earlier, a lot quicker.
And remember: You'll have a 30-day, full money-back guarantee.
There's literally nothing to lose, and potentially six figures to gain. Not to mention: The beautiful feeling of holding your book in your hands, and knowing your stories and ideas matter. That people are reading them and having their lives changed.
Note: If your book leads to groupies knocking on your door and ruining your writing rhythm, I take no responsibility. That's beyond the scope of the course :)
Yes, you'll be a "bestseller" … but more importantly, you'll be changing lives through your passion, and profiting accordingly.
Now: Don't you want to be one of the first 25 to get in on this deal? Aren't you crazy for hesitating if this might be right for you? You can always take a peek inside, and get your money back.
But for most of you, I have a feeling this will be worth it. I have a feeling that you'll remember this as the day you committed to becoming an author, and your life was never the same.
You'll also have a chance to be published (for free) by my Platypus Publishing imprint (if you're a star student).
And you'll never see this low of a price again.
If you've gotten this far, you clearly are interested enough to give it a shot. To peek inside and decide: Can I really write a book? (Spoiler: Anyone can.) Is it really worth it? (That I can't promise you … but it can be done in as little as an hour a day or a few hours on the weekend … and $5.)
Alright, I hate "hard-selling" like this … I just want you to write that book that's inside of you. I want you to know that it's entirely possible, and that I will provide you with every lesson, tool and resource you'll need to get through every single part.
Even the hardest ones, when you'll inevitably doubt yourself. We'll plan ahead for all of it.
This is your final reminder:
If you'd like to be one of the 25 lucky students to get Permission Publishing for the All-Time-Low price, just scroll down and enroll.
I can't wait to see you inside, and greet you personally (how could I not?).
Course Curriculum
Start Here
Available in days
days after you enroll
Frequently Asked Questions
When does the course start and finish?
The course starts now and never ends! It is a completely self-paced online course - you decide when you start and when you finish.
How long do I have access to the course?
How does lifetime access sound? After enrolling, you have unlimited access to this course for as long as you like - across any and all devices you own.
What if I am unhappy with the course?
We would never want you to be unhappy! If you are unsatisfied with your purchase, contact us in the first 30 days and we will give you a full refund.
This course is closed for enrollment.
Your Instructor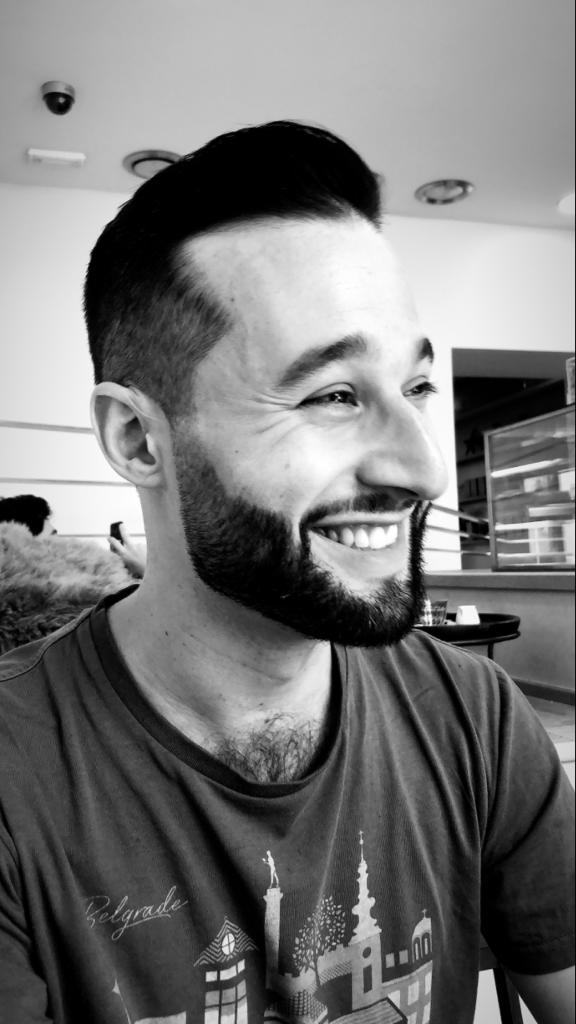 Five years ago, Matt was a struggling sportswriter making $28,000 a year, living with his parents. Then he wrote Smart Sports Betting.
He stumbled into $13,315.30 in profits (and counting), even though he hasn't touched the book or done any traditional marketing since.
(He was as surprised as you are.)
Matt parlayed the book into a six-figure business and publishing brand (Platypus Publishing), and has dedicated his life to helping real entrepreneurs and writers self-publish professionally.
Matt's book has allowed him to travel to over 50 countries, writing and working as he goes. He doesn't believe in scammy marketing or annoying self-promotion, and he'll teach you how to get strangers to buy in to your book before you waste any time writing.

Based off of Seth Godin's "Permission Marketing" ... Matt calls it "Permission Publishing."